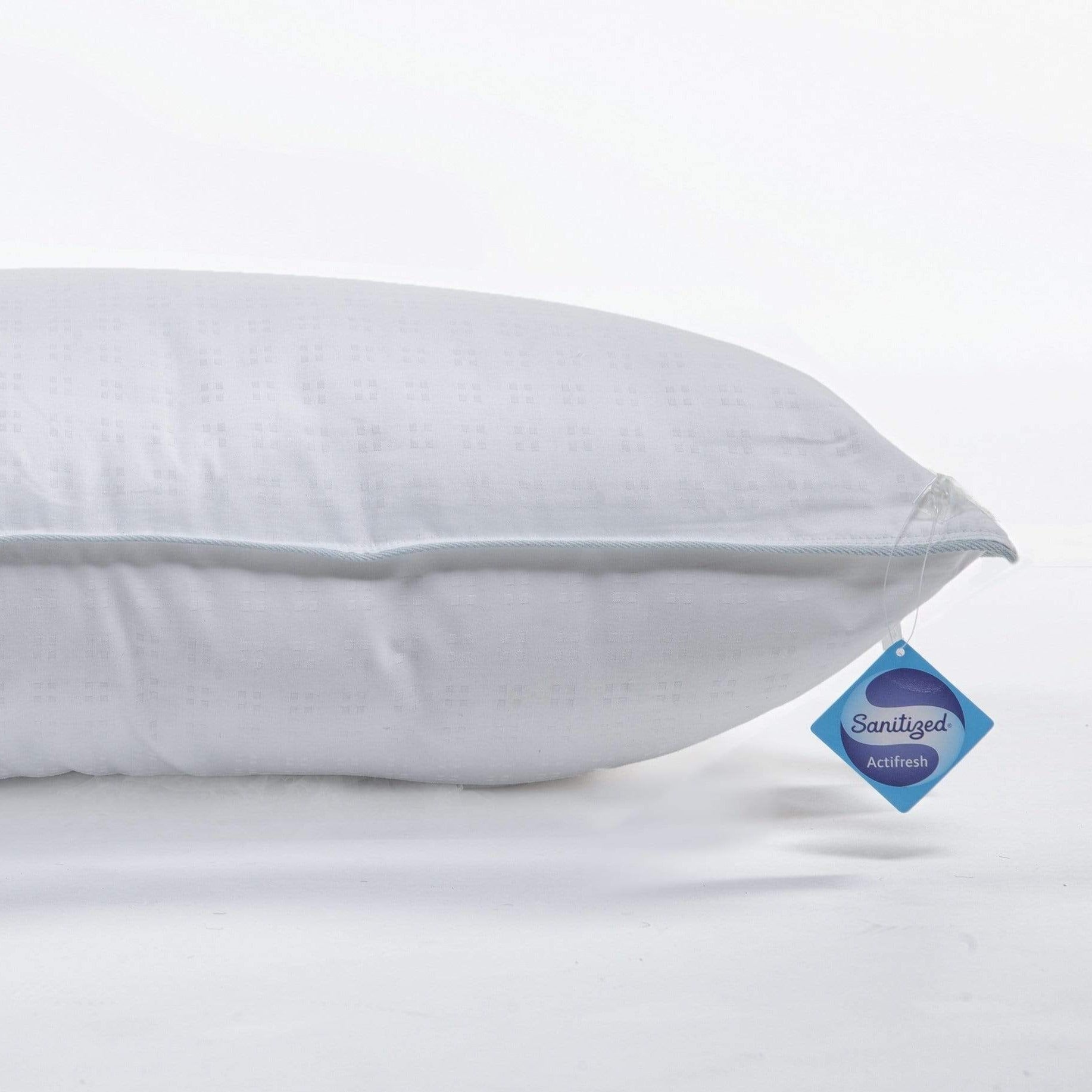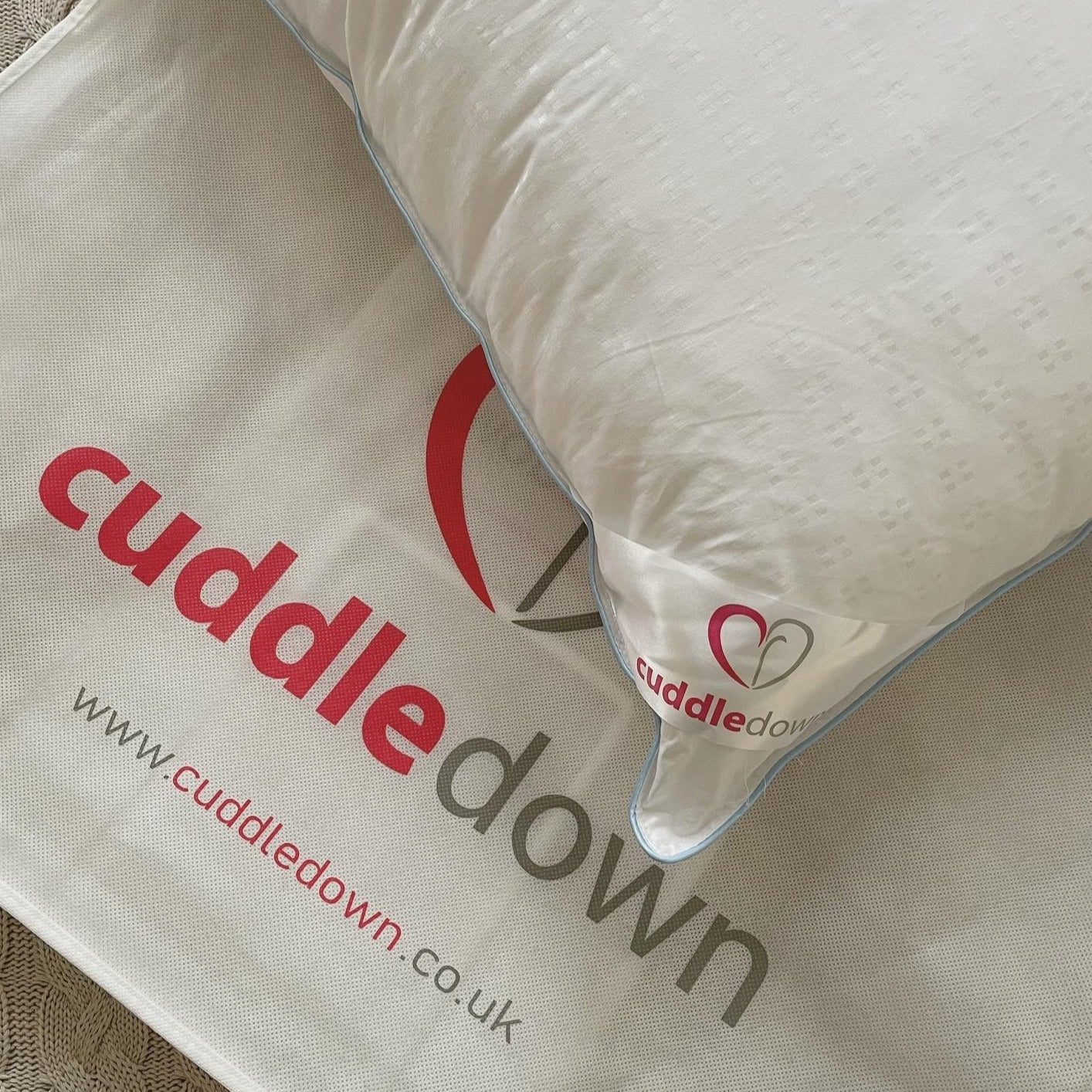 Down Alternative Microfibre Pillow
£31.50
Sale
•
Sale
•
4500
The dreamy down-like pillow is pure hypoallergenic bliss. Featuring fluffy microfibre fill, this pillow is a great alternative to one of our goose down pillow. 
The Sanitized® fill makes this pillow the perfect fit for allergy sufferers and sensitive sleepers alike - offering down-like comfort and support. The pure cotton casing ensure natural breathability and is double-stitched for superior durability.
• Down-like Sanitized® hypo-allergenic microfibre
• 250 thread-count pure cotton Jacquard casing
• Made in Britain

• Packaged in a reusable fabric storage carrier
• OEKO-TEX® & Sanitized® certified
• Considerately sourced — read more ➞
• Can be carefully washed and dried — care guide ➞
• Guaranteed for 2 years — our promise ➞

free delivery (UK, over £40) ➞
free 30-day returns (UK only) ➞
Down Alternative Microfibre Pillow
Sleep easy.
Featuring an innovative lightweight and hypoallergenic Sanitized® fill that provides lasting protection against allergens. The pure cotton casing makes for a naturally breathable pillow, and the plump fill is a superb choice for sensitive sleepers and those looks for an alternative to goose down.
From bottle to duvet
A better alternative
Choosing an alternative pillow doesn't mean compromising. Our fibre-filled pillow is both fluffy and supportive and dreamy enough for any sleeper. Perfect for sensitive sleepers thanks to its hypoallergenic properties and Sanitized®-certified fill for lasting protection against nasties.
The filling is made from recycled plastic bottles (yay oceans and land-fills) making this a considerate choice too.
Down Alternative Microfibre Pillow
I ordered some pillows for my new house as I'd purchased some from here before and they are simply amazing. They never go flat and are the perfect height and so so comfortable. I feel like I'm in a luxurious hotel every night.
Down alternative microfibre pillow.
I have found the perfect pillow! I am a side sleeper & have been experiencing shoulder pain. I needed a thick pillow but I didn't want it to be too firm but the softer ones didn't offer enough support & two pillows are too much & strain my neck.
I was finding that I had to wrap pillows around my arm to get the right support & this was hurting shoulders.
This pillow is lovely & thick, soft enough so my head sinks into it but supportive enough that I don't have to raise my arm up under it.
Its lovely propped up so I can sit against it & read as well.
My shoulder pain has all but gone now so it shows how important the right pillow is!
Also it was very easy to order from cuddledown. The pillows were with us within a few days & I think that they are a very reasonable price as well.
Great pillows
Always have down pillows but a friend needed a good alternative so I recommend she try these and she's so happy she did, she says they are super comfortable
Luxary
I have bought 2 linen dovet sets now, I am so pleased with the quality, I have spent a lot of money but so worth it.
Fabulous pillows
I bought 2 Down Alternative Microfibre Pillows and they are just perfect. The firmness is great and I've slept soundly since having them. Never underestimate the importance of a good pillow.
Just the job
My wife is particular to what pillows she prefers and these have had her A1 approval therefore they must be good !
That aside dealing with Cuddledown was a breeze and the delivery was efficient.
Nice pillow with good support
Nice pillow, felt a bit too big at first but now really enjoying the firm support
Comfy pillow
The best pillow I have slept on.
Good quality bedding
I've bought 2 microfibre pillows after being very happy with a recent purchase of a down duvet. These are for a guest bed so I haven't slept in them myself but they are lovely and plump. They also arrived very quickly after ordering so I'm very happy to recommend Cuddledown.
A Very Satisfied Customer
The most comfortable pillow I have ever had, and due to neck problems, I've had quite a few. I now wake up having had a good night's sleep.
Honestly, a great Pillow!
I'm very fussy and think this pillow is brilliant. Not too hard or too soft and not too low or too high!